Art Valuation | Request an appraisal of your artwork collection
Ainslie has been appraising artworks for over two decades in Perth, Western Australia. As a result of her experience, no art valuation is too difficult or complex.
Artwork valuation: your art collection matters
Knowing the value of your art is central to understanding your artwork collection, and is why artwork valuations are so important.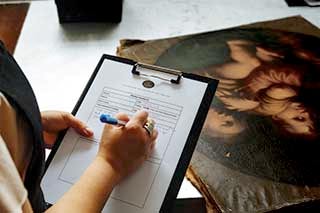 For you to obtain a thoroughly researched art valuation, it is imperative that your art is appraised professionally by a recognised and experienced valuer.
As an art valuer, Ainslie has been appraising artworks for 25 years. Documenting, researching and valuing extensive and modest collections for private and corporate clientele, Ainslie employs ethical research procedures supported by in-depth industry knowledge.
Ainslie's boutique firm, Ainslie Gatt Art Consultancy, specialises in Australian and modern & contemporary international art valuations/appraisals. Resultantly, her clients range from private to corporate collectors, insurance companies, financial planners, legal firms, superannuation funds, executors and estate advisers, to name a few.
Ainslie Gatt has in-depth knowledge of the fine art industry, supported with postgraduate education. Her unsurpassed research and analysis skills combine over two decades of experience and, most importantly, inside industry know-how.
All art valuations are undertaken in strictest confidence.
Contact Ainslie now on 0431-967-069 or by email on art@ainsliegatt.com.au to book your artwork valuation appointment.
…