Art Valuation | Request an appraisal of your artwork collection
No art valuation is too difficult or complicated. Ainslie has been appraising artworks for over two decades in Perth, Western Australia.
Artwork valuation: your art collection matters
Knowing the value of your art is central to understanding your artwork collection and is why artwork valuations are so important.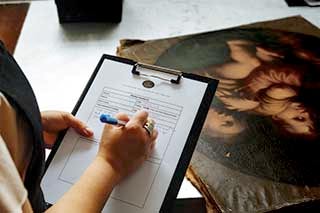 For you to obtain a thoroughly researched art valuation, it is imperative that your art is appraised professionally by a recognised and experienced valuer.
As an art valuer, Ainslie has been appraising artworks for 25 years. Ainslie employs ethical research procedures supported by in-depth industry knowledge to document, research and value extensive and modest collections for private and corporate clientele.
Ainslie's boutique firm, Ainslie Gatt Art Consultancy, specialises in Australian and modern & contemporary international art valuations/appraisals. Resultantly, her clients range from private to corporate collectors, insurance companies, financial planners, legal firms, superannuation funds, executors and estate advisers, to name a few.
Ainslie Gatt has in-depth knowledge of the fine art industry, supported by postgraduate education. Her unsurpassed research and analysis skills combine over two decades of experience and, most importantly, inside industry know-how.
All art valuations are undertaken in the strictest confidence.
Submitting a Work of Art for valuation/appraisal online
Submitting a work of art for valuation is easy. All it takes is three simple steps:
1 – Begin by sending us an email to art@ainsliegatt.com.au that includes the following details of your artwork:
Artist full name
Title of the work (if known)
Dimensions (height x width x depth)
Medium (oil, acrylic, watercolour, bronze, glass, etc.)
Where purchased
Original invoiced price (if available)
Date of original purchase (if available)
Previous valuations (if available)
A certificate of authenticity accompanying the painting (if available)
2 – Email art@ainsliegatt.com.au a clear photo of your artwork/s, the artist signature and the back of the artwork if there are any stamps, stickers and/or writing.
– Smartphone photos are suitable.
3 – Wait for us to email you an initial valuations email – then we can get started!
…

FAIR MARKET VALUE
The price at which the property would change hands between a willing buyer and a willing seller, neither being under any compulsion to buy or sell and both having reasonable knowledge of the relevant facts, is generally understood to be the value at which an item sells at auction.
Definitions from Appraising Art: The Definitive Guide to Appraising the Fine and Decorative Arts.
RETAIL REPLACEMENT VALUE
The highest amount in terms of Australian dollars that would be required to replace the property with another of similar age, quality, origin, appearance, provenance, and condition within a reasonable length of time in an appropriate and relevant market. When applicable, sales and/or import tax, commissions, and/or premiums are included in this amount. This is generally understood to be the value at which items sells in a gallery setting, although this depends on the specific market.
RATES
Artwork valuations are charged at $180 per item. Fifty percent of the agreed rate will be invoiced and due before commencement, the final payment invoiced and due on completion of the valuation/s. Reduced rates available for large collections. Travel outside Perth metro area will incur a travel fee.
Contact Ainslie now on 0403-023-446 or by email on art@ainsliegatt.com.au to arrange your artwork valuation online.