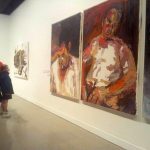 Last night I went to the exhibition opening of Ben Quilty: after Afghanistan; Shaun Gladwell: Afghanistan at John Curtin Gallery (JCG), at Curtin University, Bentley WA. I have to say, although I regularly receive invitations from the JCG it is not too often I venture to Curtin to see one. It is a bit of a drive. However, I knew this was coming up, and I really wanted to go.
War artists are an important part of Australia's culture. They have a great purpose for several reasons. The first is obvious, as they record historical events.
Another is to bring back an emotional understanding of what our soldiers experience, but the reason that I feel is most important is, it helps our soldiers heal. They go through this emotionally revealing experience with the artist, uncovering layer upon layer of the visions of war. In this exhibition, you definitely see this. It is beautifully emotional and revealing.
At last night's opening, we were fortunate to have heard from two Australian Special Air Service Regiment soldiers (SAS). Both have had stellar careers in the SAS spanning over 35 years, tell emotional and descriptive accounts of their service abroad and the impact it has had for Australia and how it affected their loved ones left behind.
This is a powerful exhibition, definitely one to recommend to our friends and acquaintances to go and see. The exhibition runs until the 14 August. You can click on the link below to the gallery for opening times and public programs.
Ben Quilty: after Afghanistan; Shaun Gladwell: Afghanistan
PS: I did get in trouble for taking these photos…
Ben Quilty: after Afghanistan; Shaun Gladwell: Afghanistan at John Curtin Gallery