Collecting Corporate Art
Collecting art for your corporate environment reflects an important statement of your corporate culture and brand identity. A corporate art collection has the ability to project your organisation as a leader in its field.
One of the most enjoyable aspects of Ainslie Gatt Art Consultancy's work is assisting clients with building and developing their art collections. For more than two decades, we have worked with many organisations to do just this.
For new or expanding corporate art collections, it is important to ensure that a properly devised plan (collection policy) is adopted.
A well set out collection policy would address the following criteria:
* identify key themes (including the types of artworks to be collected)
* structuring guidelines for acquiring and processing the collection material
* maintenance and conservation procedures to ensure the safety, security and longevity of the artwork
* setting and adhering to budget guidelines.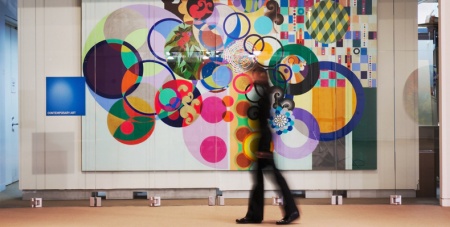 A properly constructed collection policy will give you peace of mind and confidence in your art collection development. Ensuring your investment in art is not only appealing but has been selectively purchased within your policy guidelines. These guidelines are to protect your particular art investment strategy.
For individuals, tailored policies can be developed to suit your individual needs.
Building an art collection is a very personal investment decision; therefore, in addition to the investment criteria set out in your collection policy, Ainslie Gatt Art Consultancy has the responsibility of identifying with the client the following key matters:
…
…
Purpose and scope of the collection
* Devising a budget
* Physical items to be collected
* Relevance and Significance
* Condition
* Provenance and Documentation
* Interpretive potential
* Conservation of collection