The Indigenous Business, Enterprise & Corporations Conference (IBECC16)
1-2 December @ UWA Business School
Creative Directions in the Indigenous Art and Culture Economy.
IBECC is Australia's premier Indigenous business event. In 2016, the IBECC16 Conference featured over 100 speakers on topics including economic policy, business development, leadership development, innovation, Indigenous women in business, the Indigenous digital economy, Native Title, culture, arts, housing, health, natural resource management, and more.
On the world stage we see the rise of indigenous television series like, 'Black Comedy' and 'Cleverman', movies and theatre. Aboriginal arts administrators, musicians, artists and writers are receiving backing from large marketing and distribution firms. Creative, marketing and media companies are on the rise. Shakespeare is even speaking Noongar! Times are rapidly changing, and creativity is back in the 'black'.
A very special thanks to the IBECC16 creative influencers who presented:
Lee-Ann Buckskin & Lydia Miller Australia Council for the Arts. 'A Culturally Ambitious Nation'; Vanessa Russ Berndt Museum, 'How the Museum plays a vital role in building audiences and economies for the visual arts'; Michelle Broun Indigenous Community Stories at Film and Television Institute WA Inc, '100 Stories for 100 years and Beyond'; Wayne Barker KALACC: 'The Economy of Culture and the Arts'; David Williams Glimbaa; Geri Hayden, Wiilmen & Monica Kane, Community Arts Network (CAN): 'From Rekindling Stories on Country to Social and Economic Development'.
Click here for more information.
Meet our Creative Leaders at IBECC16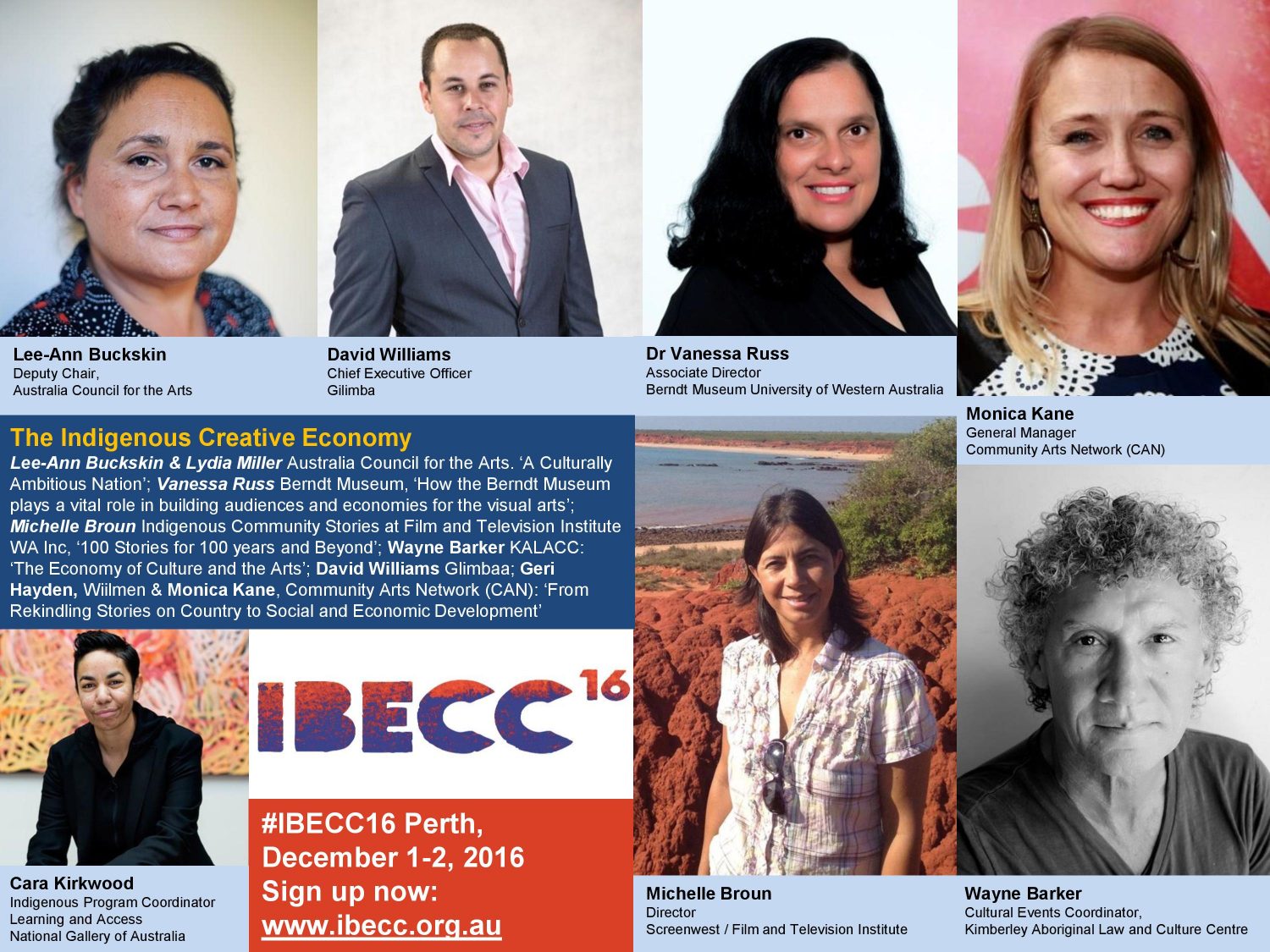 Creative Influences Presenting at IBECC16